I received this lovely email from a friend yesterday. And I just have to blog it as I found it to be so true!
-Somebody said it takes about six weeks to get back to normal after you've had a baby.That Somebody doesn't know that once you are a mother "Normal" is a history-Somebody said you learn how to be a mother by instinct.That Somebody never took a three-year-old shopping-Somebody said being a mother is boring....That Somebody never rode in a car driven by a teenager with a driver's permit.-Somebody said if you're a "good" mother, your child will "turn out good".That Somebody thinks a child comes with directions and a guarantee.-Somebody said "good" mothers never raise their voices.That Somebody never came out of the back door just in time to see her child hit a golf ball thorughh the neighbour's kitchen window.-Somebody said you don't need an education to be a mother.That Somebody never helped a fourth grader with her math-Somebody said you can't love the fifth child as much as you love the first.That Somebody doesn't have 5 children-Somebody said a mother can find all the answers to her child-rearing questions in the booksThat Somebody never had a child stuff beans up his nose or in his ears.-Somebody said the hardest part of being a mother is labour and delivery.That Somebody never watched her "baby" get on teh bus for the first day of kindergarten.-Somebody said a mother can stop worrying after her child gets married.That Somebody doesn't know that marriage adds a son or daughter-in-law to a mother's heartstrings.-Somebody said a mother's job is done when her last child leaves home.That Somebody never had grandchildren.-Somebody said your mother knows you love her, so you don't need to tell her.That Somebody isn't a mother.
So mothers, do you agree with me that the statement above are all true?
I know it is, thanks to the young lad below...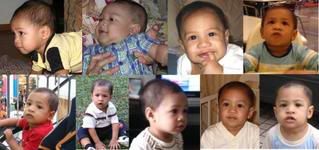 *************************
Added today at 4.00 p.m.
I am tempted to share what I've given hubby for his birthday. He wanted a pair of futsal boots, but I've given him something extra...
A PERSONALIZED BIRTHDAY NEWSPAPER!!
.
He was thrilled and impressed. Tak sia-sia my hard effort.
Ehem..ehem...if you are thinking of getting something similar for your loved ones, you know whom to contact, right?! *wink*
.
I do not plan
(yet)
to make this permanent product for
C.M.O.G
as I don't think I'll able to commit due to my tight schedule but if you want something like this, I can try to come out with something for you. Just email me at rafiqah_eliza@yahoo.com
But, do tell in advance ye!
Note to hubby : Futsal boots tu nanti kita cari sama-sama yek...